Malam tadi kami ke Mydin sebab nak bank in duit through maybank.malangnya,Machine rosak..dah pergi kat bank,tapi ramai sgt insan yang tengah beratur,Tak sanggup eden nak beratur panjang2.
Niat hati masuk dalam Mydin, mmg dah pasang niat nak carik bahan2 nak buat tiramisu.Hehhe..Mula2 me carik Whipp Cream and cream cheese..Yes!! Akhirnya jumpa jugak..Mula2 me ambik whipp cream yang dalam kotak..Then ternampak lak dalam botol.Menarekssss..heehhehe...
Whip Cream ala2 gini la..Tapi lupe dah brand die ape.
Tapi terpengaruh ngan whipping cream yang dalam botol
Terbayang-bayang dah..haahhahah..camne nak buat kang..kuikuii..berangan..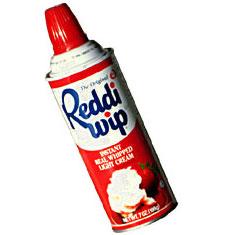 Macam ni la.Tapi lupe gak brand ape.
Harapnye..menjadik la my Tiramisu.Bile ntah nak buat.
Lots OF LOVE..Tq Sebab JENGUK sini !